The U-Boat brand blends Swiss accuracy with Italian history. Although the company is among the newest in the watch business, its origins date back to 1942. It's understandable how these distinctive and striking pieces captivate those who enjoy unconventional designs. This is because they have an intriguing backstory and a wide variety of retro styles inspired by the Second World War military timepieces.
By The Editors of Superwatchman
Dec 15, 2022
Italo Fontana inherited an innate passion for watchmaking from his grandfather, Ilvo Fontana. He then developed U-Boat in 2000 after finding his grandfather's drawings of durable timepiece styles from the 1940s. Ilvo had been given the task of creating the timepieces for the Italian navy. The intention at the period was to make sure the watch was large enough for the passengers to quickly tell the time in any weather or lighting.
Photo: AMJ Watches
However, the project was never completed. So Italo decided to carry out his grandfather's wishes and bring the ancient timepieces to life. By doing this, he collaborated with label designer Mounir Moufarrige, who had earlier assisted the growth of companies like Montblanc and Panerai. U-Boat later launched its first range of watches after a 7-year wait.
Several models have since been introduced that pay tribute to Ilvo's meticulous attention to detail. The early pencil designs showed a sturdy watch with a readable dial, maximum waterproofing, and a unique and memorable design. The left-sided crown, as well as the huge, commanding case dimensions, are two of the U-Boat watch's distinguishing characteristics. Moreover, each watch has its personality thanks to genuine Tuscan artistry, which is combined with Swiss movements that workers put together at the company's headquarters in Lucca.
It is undeniable that U-Boat timepieces distinctively display the time. However, different elements that have allowed every line to develop their personalities also contribute to their exceptional sensation on the wrist. Additionally, U-Boat enjoys experimenting with many materials, including ceramics, tungsten, titanium, steel, and carbon fiber. Bronze.
Below is a brief review of the U-Boat's modern history watch collections:
Capsoil collection
The Capsoil Series, which consists of retro-style items with the most recent developments, is one of U-Boat's most distinctive and well-known collections. Undoubtedly, Capsoil watches are renowned for the low viscous oil that flows into the dial from their Swiss electro-mechanical movement. In addition to giving the dial a profound, three-dimensional aesthetic that provides the impression that there isn't any glass, this special oil also generates a constantly shifting bubble.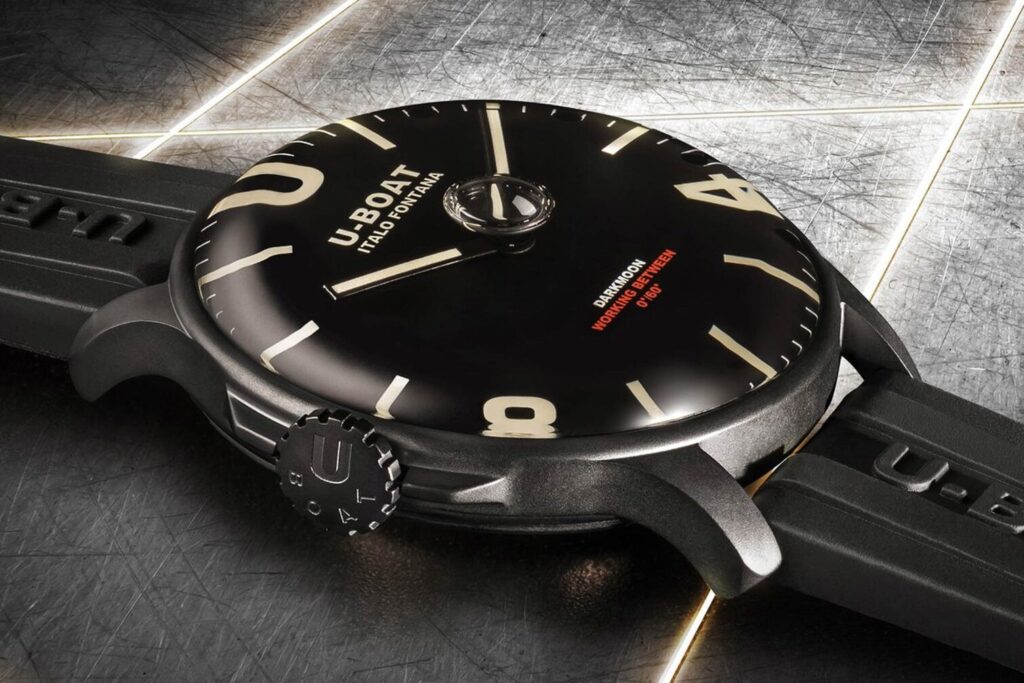 Photo: KeeptTheTime
This accounts for temperature changes and enhances the view of the indexes. Moreover, it makes it simpler to see the indicators on their hands.
The unique mechanism that connects the casing to the glass, as well as the mechanism of proprietary levers that can sustain extreme pressures, is two developments that guarantee the dependability of U-boat Capsoil.
The U-Boat Darkmoon, one of their latest designs, was motivated by the satellite's shadowy side. Both their distinctive elegance and their efficiency distinguish them.
Chimera Collection
The distinctiveness that distinguishes this Italian label is materialized in Chimera wristwatches. These Chimera timepieces, which have a distinctly masculine personality, integrate all of U-technological Boat's breakthroughs with a vintage-inspired design.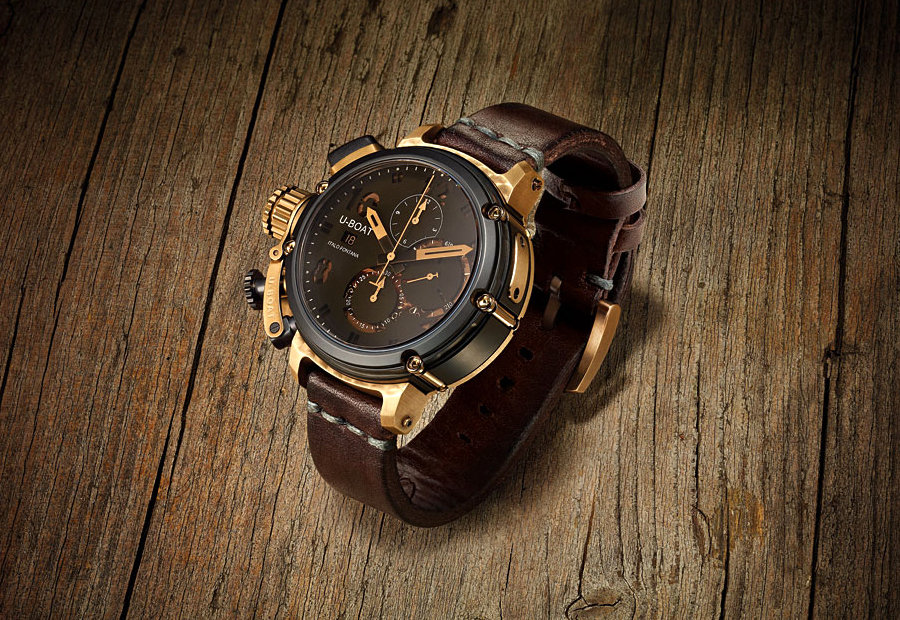 Photo. U-Boat
This line's classic box featuring a striking cap over the top plus its pushers are its most defining characteristics. An outer tube and a unique key are used to connect the casing's bottom and bezel, guaranteeing complete water resistance. These watches' dials also strike out because they are stacked and enable the user to examine the watch's interior workings.
Classico Collection
While keeping up with the most recent manufacturing trends and the unique touch that U-Boat constantly adds to its creations, Classico timepieces perfectly exemplify the values of style and simplicity over which Italy is known. U-boat Classico timepieces have a lot of personalities and are made to be noticed by everyone because of their straightforward yet striking design.
Photo. U-Boat
At first glance, its original casing is indisputable due to its unusual dimensions and thickness. The crown, which is on the left edge, also contains a proprietary safety mechanism. Every watch is guaranteed to be unique by a plate with the serial number etched.
The Classico Tungsten variants are especially remarkable in this series. It gets its title from the unique metal, which is among the most resilient and long-lasting, used to make the bezel but is hardly found in the earth's crust.
U-42 Collection
The U-42 series quickly captures your attention if you enjoy blending traditional style with nostalgic historical appeal. The remarkable designs and intricate features of premium watches are what allure customers. The timepieces in this category are distinguished by their black coloring.
Black and brown are attractive color tones that can be blended in a variety of ways in everyday life.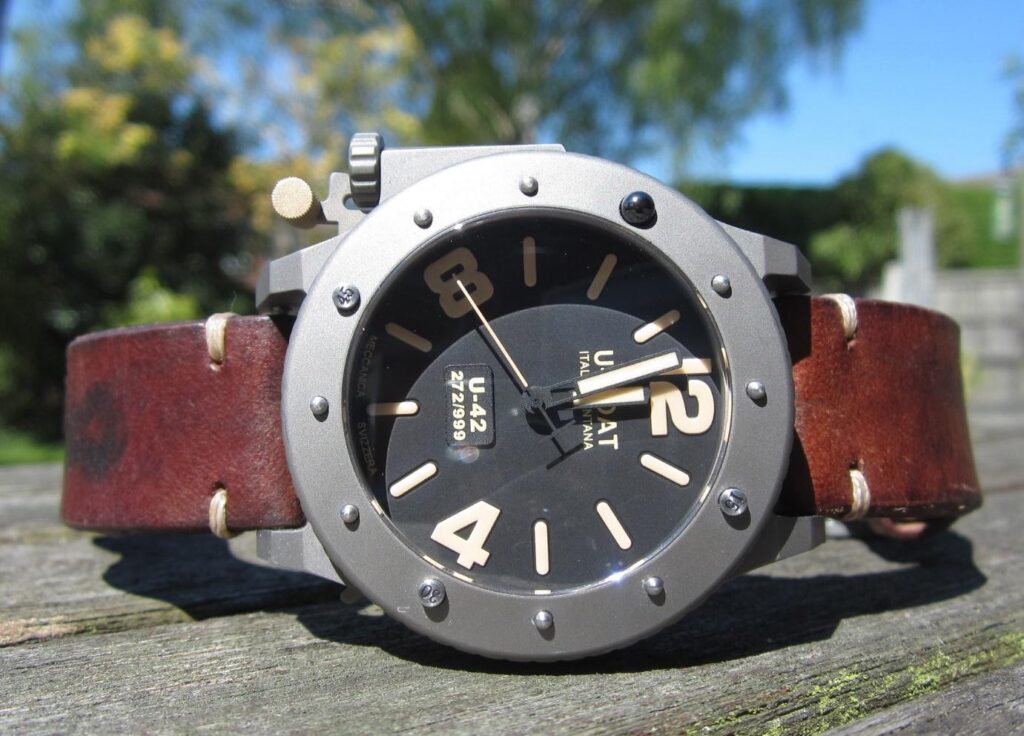 The line's primary features are the tough titanium casings. A U-42 collection is created when a traditional design is combined with cutting-edge technology and extreme resistance. In addition, these watches improve your daily life in more ways than merely providing accurate timekeeping.
Sommerso Collection
This collection of watches was created to fulfill the demands of professional divers while also allowing wearers to pair it with more stylish and sophisticated attire. The Sommerso range has a bold, clean design engineering inspired by high-tech equipment from the past and is built to resist the demanding requirements of expert diving. Moreover, the unidirectional bezel, the most defining aspect of a diver timepiece, is present in Sommerso variants and allows the diver to manage the diving time.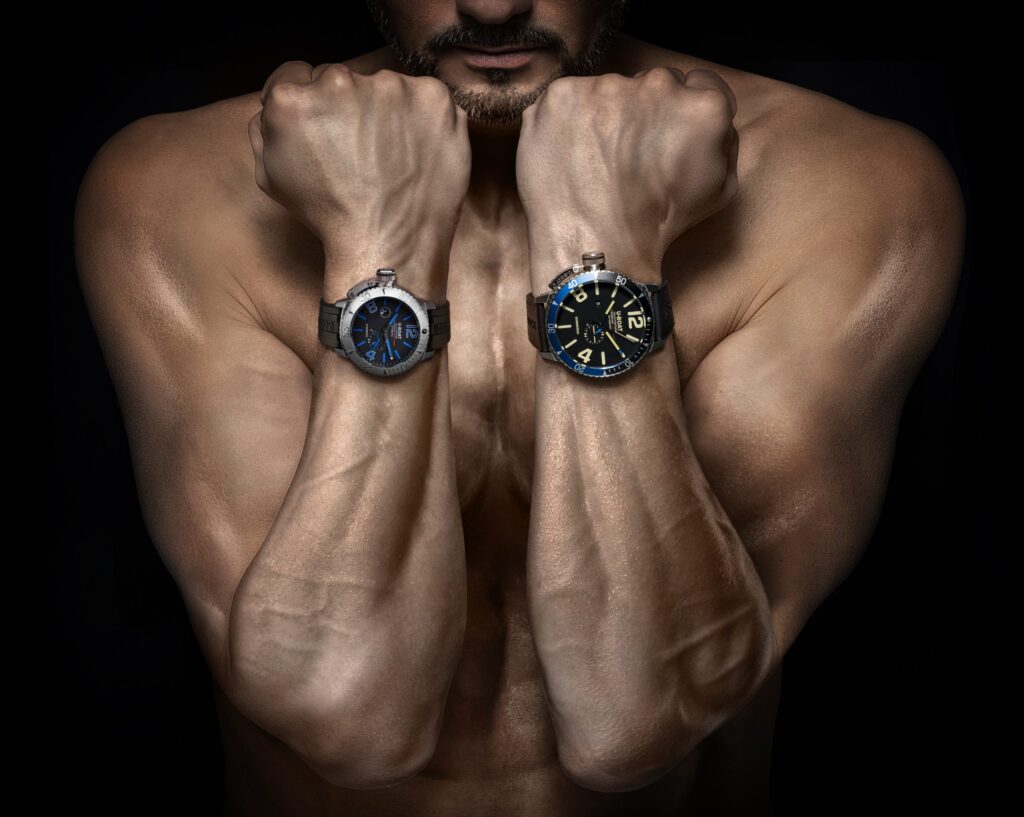 Photo: U-Boat
Together with Sommerso, the U-1001, a particular version certified to withstand 1001 meters level, is a component of the diving watch line. This U-Boat diver watch line was created for swimming enthusiasts with a tasteful aesthetic, and it will evoke special feelings in you.
Bottom Line
Because of the eye-catching casing size and crown levers, it is almost impossible to avoid making a statement when sporting a U-Boat timepiece. Even though each U-Boat piece is painstakingly made by hand in Italy, they all include Swiss movements and only the highest grade components, such as its tungsten steel with sapphire crystal glass.